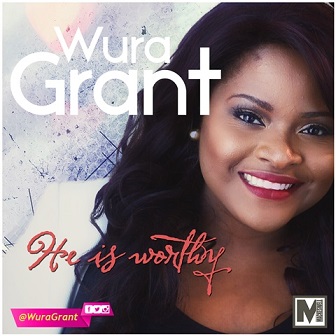 US based Nigerian singer and songwriter, Wura Grant comes through with a sound from heaven titled 'He is Worthy', produced by David Grant.
The new single by the powerhouse vocalist was given after a divine encounter where she was mandated to take the sound to all the earth.
"He is Worthy" touches on the homorhythmic tone associated with hymns. In this single you can hear strings, piano chords and intermittent chimes in solemn worship expressed with intensity and sincerity.
Late January of 2017, while resting during the day, I drifted off to sleep." Wura Narrated. "In a trance, I was surrounded by thousands of angels all standing at attention and singing the most beautiful song into a very bright light with the image of a Man behind it. The light was so bright I could not look into it. The angels were singing 'make a joyful noise to the Lord all the earth for He is worthy'. This song had the most beautiful harmonies I have ever heard.
My guide was a 12-foot tall angel. I was astonished by his height, and all the angels had on pure white robes, singing this song into the light.
I pleaded with the angel to let me remain, but he said I must return to the earth and sing this song as I have heard it all over the world. Immediately, I started spiraling down back to earth which was like a small blue ball and I woke up in my bed.
Heaven is a beautiful place and the worship is so intentional towards the Creator. Please accept Christ as your personal Lord and Savior so that we may all make it into heaven, the most beautiful place I have ever seen.
My husband, who produced this song, interpreted it to the best of his ability, but it can never be compared to the true sound with thousands of angelic voices, singing in harmonies unheard of.
I pray this song blesses your heart and bring restoration to your life."
Watch lyric video below:
Follow us on Twitter & Facebook