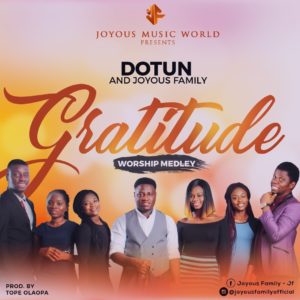 Dotun and Joyous Family are out with their debut single Gratitude.
A worship medley that will take your worship life to a whole new level.
Joyous Family is a gospel music household lead by Dotun Oloyede (a tune author, reward and worship chief and a music director) with a imaginative and prescient of growing as many as potential spiritually and musically. Our purpose is to guide many lives to Christ.
As Psalms 136:1 says "O give thanks unto the Lord; for he is good: for his mercy endureth for ever."
Gratitude written, organized and led by Dotun Oloyede, produced by Tope Olaopa. Further vocals by Dotun Dahunsi and Bukky Akinwale
Download and fill your heart with gratitude to God.
Follow us on Twitter and Facebook