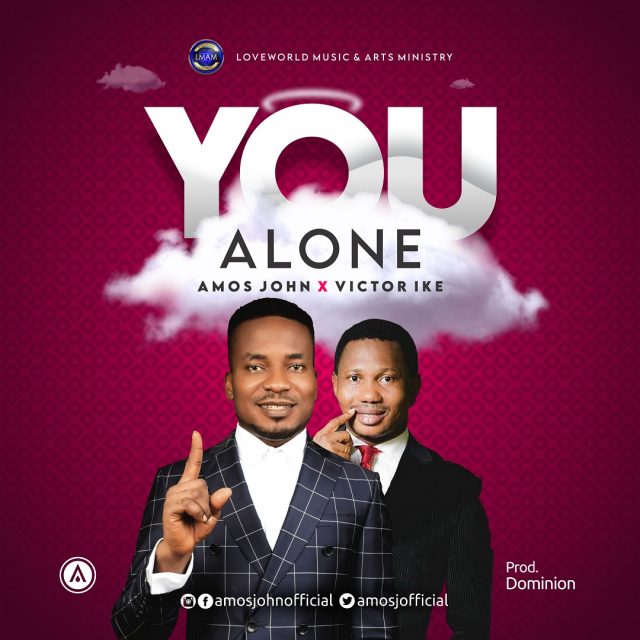 Amos John, also known as A. John is a worship singer who is known for spirit-lifting worship which brings down the presence of the living God. His songs are usually dynamic in nature and this is what makes him different. His deep relationship with God and hunger to praise him alone led to the birth of "You Alone", a praise song from the spirit.
Amos John is known for the unique African touch which his music carries over the years.
John is set to impact your spirit with this praise song 'You Alone' featuring Victor Ike. The audio is recorded and mastered at JIA Media Studio by Dominion
Lyrics:
You're alone at worthy of my praise
King of kings your kingdom never ends
I acknowledge your mighty power
at work deep within me I give you all the praise
Glory and honour to your name
You're the great and mighty God
You gave me victory song to sing
Fill my heart with joy I extol you majority
Chorus:
And forever I will praise your name
Baba eh
I will dance and lift you high
Baba eh
You alone deserve my praise
Baba eh
You're worthy to be praise oh
Baba eh.
I will praise you praise you forever
Respond: Onye OMA
I will give you all the glory eh
Respond: Onye OMA
For you're so good to me eh
Respond: Onye OMA
That's why we live to praise your name
Forever
Onye oma oh
You're worthy lord
Onye na eme nma leh
You're worthy lord
You say make I dance ,I go dance
You say make sing , I go sing
You say make I left my hands in praise to you.
Onye kere uwa Mara nma heh eh
Baba eh
Onye ne me nma heh eh
Baba eh
I will give you all the glory yeh
Baba eh
Onye OMA Mara nma
Baba eh
You're worthy worthy to be praise
Bab eh
My God my God
Baba eh
ESE sekem ejah
Baba eh
ESE sekem
Baba eh
ESE sekem
Baba eh
There's no God like you baba
You're strong and bigger than what my eyes can see.
You stood me on my feet
On your solid rock I stand
I don't fear to fall
Am standing tall
Am in love with you
Your my heart desire oh God
Na only you I see
King of glory
Heaven and Earth adore you ohh ohh
My God you're great
Hah hah hah
My God you're great
Hah hah hah
You're God and not a man
I give all the praise
For everything you ve done eh
Forever and ever I Will praise you lord
I will dance and lift you high
You have done so much for x2
Baba eh
I'll forever praise your name
I Will forever worship you
Somebody give him all the praise x2
Erekate ereka
E don finish
E never finish
Iseeh sekem eja x3