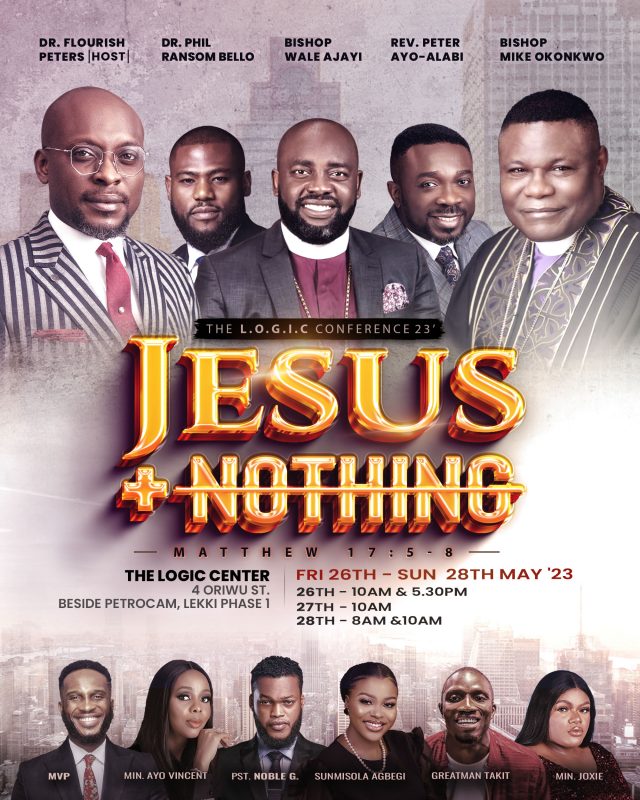 Bishop Mike Okonkwo to speak, as the revelation of Christ is in focus at the LOGIC Church Conference
The Love of God in Christ (LOGIC) Church is set to hold its annual Jesus + Nothing Conference in three locations; London, Lagos Mainland and Lagos Island. This is the 3rd edition of the conference, with previous editions held in 2021 and 2022 in Lagos Nigeria.The conference will kick off with the London edition on Saturday May 20 at 1.30pm and then on Sunday May 21, 2023 at 10am at Doubletree by Hilton, London Docklands SE16 5HW. Conference proceedings then move to Lagos Mainland on Thursday, May 25th at the Freude's Place, 23 Ikorodu Road, Wasimi, Maryland at 5.30pm. The final leg of the conference will be held at the LOGIC Church headquarters at 4 Oriwu Street, Lekki, Lagos State from Friday, May 26th, 2023 with two sessions at 10am and 5.30pm. The conference session on Saturday will be held at 10am and on Sunday at 8am and 10am.
Speaking about the 2023 conference, the Lead Pastor and Apostolic Head of the LOGIC Nation and Convener of the Jesus + Nothing Conference, Dr. Flourish Peters noted that the objective of the Jesus + Nothing Conference is to reveal Christ and the finished work on the cross. "Unfortunately there is a religious system that has put pressure on people to earn their place as believers. This is a grave injustice to Christ and the finished work on the cross. The work of redemption was done once for all men, once for all time and once for all sins. We are called to bring this good news to the world. We have brought together some of the most profound teachers and preachers of the Gospel of Christ, who have a track record of rightly dividing the word of truth to reveal the good news of Christ. This will indeed be a life transforming conference for participants," noted Peters.
Speakers at the conference include Bishop Mike Okonkwo, Presiding Bishop, The Redeemed Evangelical Mission (TREM), Bishop Wale Ajayi, Bishop, Church of God Mission International Historic Miracle Center, Dr. Phil Ransom Bello, Senior Pastor of The StandPoint Church, Rev. Peter Ayo-Alabi, Pioneer of the Heritage of Faith Church and Pastor Clarkson Ikwunze, the Resident Pastor of the LOGIC Church, Lagos Mainland Branch.  Ministering in music are seasoned ministers of the Gospel like Minister Victor Paul, Pastor Noble G, Minister Ayo Vincent, Minister Sumisola Agbebi, Greatman Takit and Joxie.
For more information about the conference and the LOGIC Church, please visit our digital channels;
Website; www.thelogicchurch.org
IG: @thelogicchurch
Twitter: @thelogicchurch     
Facebook: Thelogicchurch
Oluwatelemi Ola – James
Church Administrator