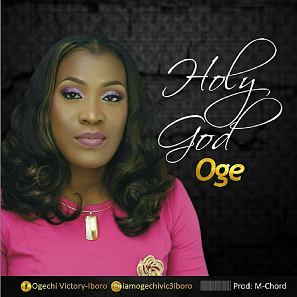 Holy God is the debut single of Oge who is a music minister, song writer, and a worship leader at First Love Assembly Port Harcourt.
The song was inspired by the holy spirit in place of prayer. Its a love song to God as He is described by many names.
Song was produced by M. Chord.
Download, and Listen here:
Lyrics:
You are mighty(2x)
Holy God
You are worthy (2x)
Holy God
Chorus
Holy God(2x)
You are worthy (2x)
Holy God  (2x)
You are righteous (2x)
Holy God
Soloist
You are faithful
Abba Father
Chukwu N' eme nma
(The God that keeps doing Good)
Agbakuru ezuru ike
(A resting/Hiding place)
You are the healer ,provider
Waymaker,deliverer
There is none like you
JESUS
Chorus
Holy God (2x)
You are faithful (2x)
Holy God
Hallelujah (2x)
Holy God
Hallelujah (2x)
Holy God (2x)
Hallelujah (2x)
Holy God
Connect with us:
Twitter: @NGospelRadio
Facebook: @NaijaGospelRadio