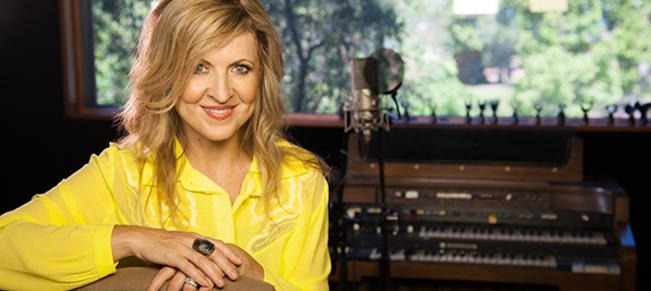 Speaking on Premier Christian Radio's 'Premier Drive' show, worship leader Darlene Zschech opened up about her recent battle with cancer.
Having cancer has driven me closer [to God]. I don't know how people do it without faith. That has been a gift.
I still don't say "Gee I'm glad I've had cancer" because I'm still taking medication, I've got another nine years of that and it's pretty hard going. Life is different now. I live life differently, very intentionally.  You can't be glib.
I get so emotional and passionate when it comes to the worship of God because there were times where I felt like I wasn't going to make it. Where I felt as though I didn't have a song, I was scatty in my mind or just completely tired.
I've preached about worship. I have encountered it in many ways, in having a late miscarriage and encountering the presence of God in such a tangible way. But this time it was like worship gave my soul a way to bring praise when, in the natural, I just couldn't find it.
The worship of God just came along through many different songs and helped give my heart a voice. I am so grateful for the gift of music. I think that worship gives music its highest purpose. This has been a phenomenal lesson for me.
When I was being treated a friend wrote out a lot of scriptures for me in a book about the love of God toward me. I travel with that book everywhere to remind myself of the love of God. Because sometimes when you feel disappointed you feel like heaven is silent, that God has forgotten you. You ask: Is he really listening? What is the word really saying?
Finding the scriptures and having them close by is important so that at any time you can quote the word and bring your experience up to what the word of God says, not try to change your theology down to where you feel. That has been premium for me.
Another thing has been the people around you. You have to be really vigilant with the people who are in your world.
I'm quite a soft person, I love people. But after a while people would pray over me and pray these heavy prayers that made me feel so depressed! At the beginning I just stood there and took it. But after a while when people would start to pray like that I would actually stop them and say, "You know what? If you're not going to pray a prayer of faith then don't pray over me because I only want people around me who are going to speak life, pray faith, be a sense of joy and hope to my family and church."
My daughters would ask, "who are you, Mum?! You have changed so much!"
I just became really vigilant with the atmosphere that I allowed in my home. And I'm still a bit the same. I live quite differently now and I like it – I don't know if everyone else around me does, but I do!
There was no way cancer was going to have the last word. I needed to bring these songs [on my new album Here I Am Send Me] and make sure that was going to be the scent in the air over my life and not cancer.
Source: premierchristianradio.com/drive