DEVOTION FOR THURSDAY, JULY 20, 2017
VICTORY BELONGS TO THE LORD
The God of the Bible is a God of peace. One of the nation of Israel's promised blessings was the promise of peace—not an emotional state but a political circumstance (Lev. 26:6). This meant it was necessary to defeat Israel's enemies (cf. Ex. 23:27).
David's military success was partial fulfillment of God's promise of peace. Victory was a necessary corollary to the promise to settle Israel in the land. This reflected God's sovereign authority. Not only do all nations on earth ultimately derive their origin from Adam, but God also "marked out their appointed times in history and the boundaries of their lands" (Acts 17:26).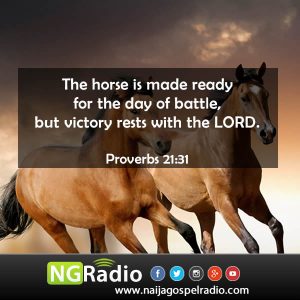 But Israel's promise of peace was not automatic. By failing to listen to God and refusing to keep His covenant, Israel forfeited the peace that had been promised to them. In that event the Lord warned: "I will set my face against you so that you will be defeated by your enemies; those who hate you will rule over you, and you will flee even when no one is pursuing you" (Lev. 26:17). God was not offering to act as Israel's secret weapon. Their promise of victory was not an unconditional promise—obedience was also required.
Jesus also came with a promise of peace. He is the promised Messiah sent to "guide our feet into the path of peace" (Luke 1:79). At His first coming He reconciled us to God "by making peace through his blood, shed on the cross" (Col. 1:20). At His second coming His peace will extend even further. Jesus will come again as the one who is called Faithful and True: "With justice he judges and wages war" (Rev. 19:11). In God's war against sin and injustice Jesus will be the ultimate victor.
APPLY THE WORD
Do you want to experience the peace of God? The only way to find it is through Jesus Christ: "My peace I give you. I do not give to you as the world gives. . . . In me you may have peace. In this world you will have trouble. But take heart! I have overcome the world" (John 14:27; 16:33).
Today in the Word's Devotion is a production of Moody Global Ministries
Follow us on Facebook and Twitter