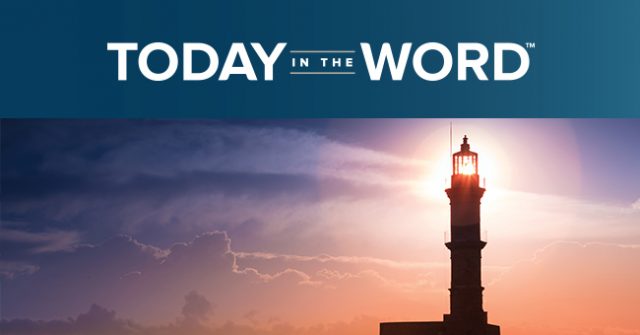 DEVOTION FOR FRIDAY, AUGUST 11, 2017
Christ is the Dawning Light of History
Christian musicians have been singing of the light of God throughout the church's history. Last year, Josh Garrels released a Christmas album titled The Light Came Down. The title track celebrates: "The light came down / Cast the darkness away / He appeared / A helpless child / The light of God came down / There is a light / A new day dawning / Old things pass / All things made new."
The Incarnation of Christ is the dawning light of history! Without Him, humanity has no hope.
This is what Zechariah realized and prophesied in his song of praise following the birth of his son, John the Baptist. The climactic verses of this prophecy are given in terms of light and darkness: "Because of the tender mercy of our God . . . the rising sun will come to us from heaven to shine on those living in darkness and in the shadow of death, to guide our feet into the path of peace" (vv. 78–79).
This is all about God's plan of redemption (v. 68). The "rising sun" is the "horn of salvation" from the line of David (v. 69), the Messiah, Jesus Christ, for whom John the Baptist will prepare the way (v. 76). Sent by God the Father, God the Son will come in order to "give his people the knowledge of salvation through the forgiveness of their sins" (v. 77). Only then can we have peace with God.
Zechariah spoke as part of a great tradition. Isaiah and Malachi were among those who had looked forward to this day: "The people walking in darkness have seen a great light; on those living in the land of deep darkness a light has dawned" (Isa. 9:2). "The sun of righteousness will rise with healing in its rays" (Mal. 4:2).
APPLY THE WORD
Without the light of Christ, we would remain eternally lost in spiritual darkness. Because of our sins we stand condemned, but by trusting in His name we can receive God's gift of life and salvation. Have you believed on the name of Jesus and stepped into the light? If not, take this important step today!
Today in the Word is a production of Moody Global Ministries
Follow us on Facebook and Twitter