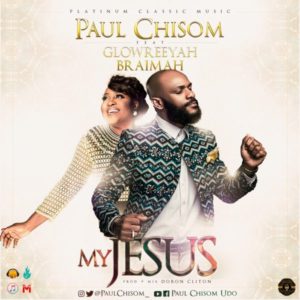 The Gospel singer Paul Chisom releases his new single "My Jesus". He features the Gospel singer Glowreeyah Braimah, known for "Miracle Worker" and "Jesus is Here".
"I could rave on and on about how much I'm in love with Jesus, but what's more amazing is the depth of His love for us, incomparable to any human kind of love" says Paul Chisom.
LYRICS
You gave up Your royal throne, for a crown of thorns
Oh what You did for love
You considered me worthy, You knew You would be rejected
Oh what a price for love
You saw the shame You would have to bear, and yet You chose it anyway
You continue to love me fervently
Chorus:<br>I don't know any other man oh
That is capable of this kind of love
[ Do you know, do you know, do you know Him
That's my JESUS ]
Repeat 4x
Uthando. . . [ Love in Zulu language]
Love so faithful, love so true
Love unending, bought by blood
Your love will never envy [ Oh. . .]
I know You'll never break my heart
Your love is not demanding [ Oh. . .]
Has no evil
Repeat Chorus
Oh my Jesus [ You are capable ]
Awesome wonder [ You are marvellous ]
Miracle worker [ Supernatural ]
Yes I know Him, that's my Jesus.
Repeat 4x
That's my Jesus. . .