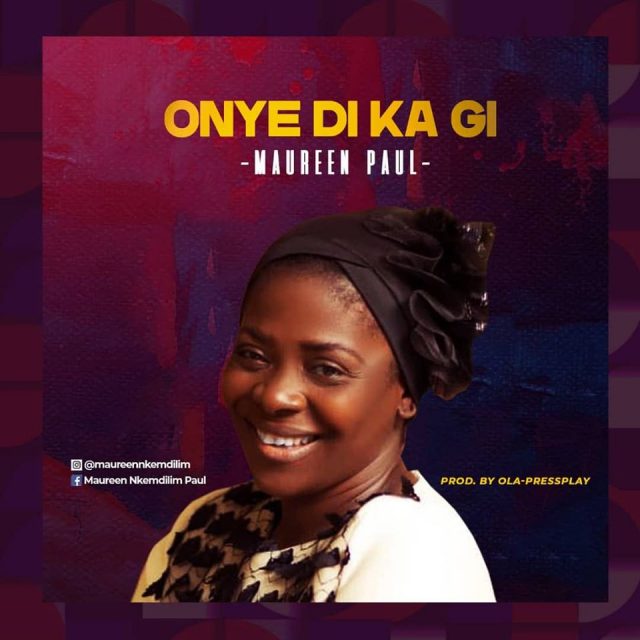 Maureen Paul, a sensational and inspirational gospel singer, Maureen Paul has just released her latest single titled "Onye Di Ka Gi" produced by OLA-PRESSPLAY.
Maureen Paul is a passionate minstrel, worshipper and lover of God, blessing the lives of many who can give up everything in setting an amazing atmosphere of worship leading God 's people so powerfully.
Download, Listen and Share
                                             Follow us on Twitter
Maureen Paul – Onye Di Ka  Lyrics
Chants: Jisos Agada gba Chirí uzo
Onye ukwu n'ogbo agha
Onye ime Eluigwe nke ato
Obi n'elu Igwe were uwa  mere ihe mgba kwa si ukwu
Chorus: A mara woo m
Sí n' Odighi Onye di ka Gi
Otu Aka n'eru mba
Akam di n'elu O
A mara m woo m si n'Odighi Onye di ka Gi eeeeh
O di nma n'eme nma
Chioma m nara ekele m u o
Talk: I na ghi agharipu
Okwere nkwa mere m ya
A na m ekele Gi, n'ihi ihe
Oma nile nke I na-emere m
Verse 1: N'elu Igwe n'elu uwa
O dighi Onye dika Gi
A ga woo m n'elu ugwu na-ndida ooo wee mara na- Odighi Onye di ka Gi
Kpa kpa ndo nile papa mu, ha nile na-agba ama Gi
Anwu na-awaputa n'ututu eeee
Ha na-asi, Odighi Onye di ka Gi
Verse 2: Ihe I kere eke nile eeee
Ha nile n'agba ama Gi
O bu na godi mu Onwe m ikere eee
A na m asi, O dighi Onye di ka Gi
N'eluigwe, n'elu uwa
Odighi Onye dika Gi
A ga woo m n'elu ugwu na-ndi da, wee huu, wee mara n' Odighi Onye di ka Gi
A mara woo nu m….
Chant 2: O dum Ogbe Juda bu Agha Jisos
So Gi bu agba kuru ezuruike
O gara ije n'elu mmiri
Anya n'ele obi
O du fe ga m Okpere azu
Igbe neche ndu
Anya n'ele obi
Jisos Onye ukwu
Jisos Onye ike
Jisos Onye Nso
Jisos Anuru anuru ndu Ekele diri Gi
A mara woo m oo
Bridge: Jisos I na-emere O bi m
Res: Sari, Sari
I na-emere m obi m