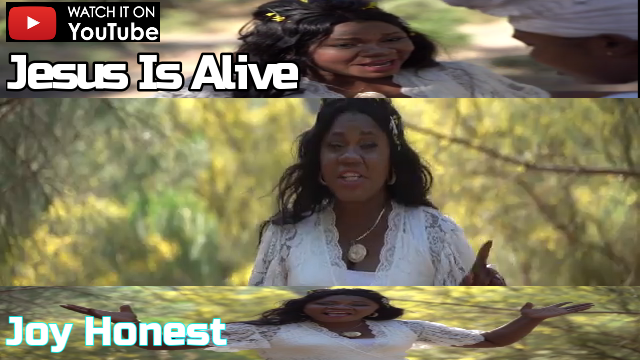 Nigerian-Italian based gospel music singer, Joy Honest has released the official video to her trending song titled "Jesus is Alive" The video expresses the inspiration that the song carries in a great dynamic display.
Joy Austin Mobi, known professionally as Joy Honest, is also a wife and prophetic counsellor.
Download Song From Digital Store Worldwide:
https://joyhonest.fanlink.to/jesusisalive
*Lyrics: *Jesus is Alive by Joy Honest
Jesus is Alive for me and he's alive for
you
He's Alive to wipe away my tear's
He's Alive to see me true
He's Alive to set me free
I put my trust in him, he will never fail me, amen.
Jesus is Alive,he's Alive for me everyday
jesus is Alive, he's Alive for me everyday
Savior is Alive, he's Alive for you everyday
I put my trust in him, he will never fail me
I put my hope in him, he will never fail me
He is the beginning and the end Alpha and Omega
There's nothing is impossible that jesus can not do
Jesus is Alive, he's Alive for me everyday
He will make a way when there is no way
Jesus is Alive he's Alive for me
Call upon his name, he's there to answer me
Even in the dark, he's there to answer me
Even in the dream, he's there to answer me
Jesus is Alive he's Alive for me everyday
So my brother's and sister's
Jesus is Alive for you
Prayer is the key to every problem's
When you are having a problem that you think it can not be solve
Go down to your knees and pray to God
God answer prayer at all time
Pray without season
Remember when there's man to pray there's God to answer
That situation that gives you sleepless night God said it's over
And  I declare and decree into your life
I declare peace in your life
I declare celebration in your marriage
I declare favour on your going out and coming in
I declare promotion in your job
I declare promotion in your business
I declare promotion in your career
I declare Increase in your ministry
So shall it be in jesus name
Amen
Jesus is Alive he's alive for me everyday
He said it's well it's well with my soul everyday
Jesus is alive he's alive for me everyday
Ibhokhe-esanmhen
bha Gina  re-ekhuenmhen nose
Bha gima re-uromhn nose
Rumhuda osasenaga
Olhoze imhanda-ribha agbon se- edenelhena
mhanyo- olhe mhandabhe vae
omhan gima yu,
omhangima khonmaon
bha gima re ekhuenmhen nose
amen
Jesus is Alive he's Alive for me
Call upon his name, he's there to answer me
Even in the dark, he's there to answer me
Even in the dream, he's there to answer me
Jesus is Alive he's Alive for me everyday
Jesus is Alive he's Alive for me everyday
Social Handles
Facebook: Joy Austin Mobi
Instagram: @joyjustinmobi
Jesus is Alive.png
(298 KB)