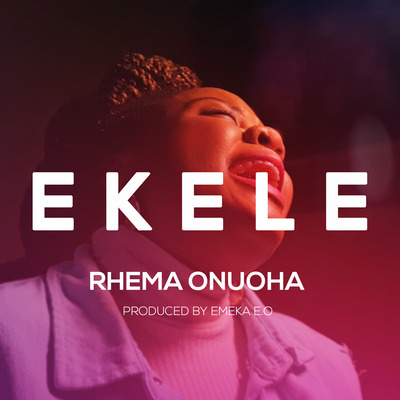 Nigerian Worship Leader, Singer and Song writer, Rhema Onuoha has released a song of gratitude titled Ekele from her forthcoming album "AMEN'. One morning, during the 2020 pandemic lock down, my husband and Producer Emeka Emele Onuoha sat at the piano worshipping and started singing the
first line of this song and from that day onwards we kept on worshipping with this song in our devotion times till it became what it is now" Rhema said while sharing the about the inspiration behind the song.
Her debut single "Psalm 27" was released in October 2020, followed by Ekele in December 2020. In 2021 she released another version of her second single Ekele and is currently working on her Debut Album "AMEN" scheduled for release in a couple of weeks. The songs to be released on the album include
Overflow, Thy kingdom Come, Ekele, Ihe Ina emerem dimma, For thou Created All, Rise up be Healed, Worthy and I'm Yours.
Rhema believes she was born to live a life poured out to the gospel and to spread the fragrance of Jesus through Her music. She is married to her producer and songwriter Emeka E.O and they are blessed with a beautiful daughter Zoe. She is currently based in Abuja Nigeria and functions as a Music Director alongside her husband Emeka E. O in Petra Christian Centre, Abuja. We trust that it would bless you greatly and draw your heart closer and closer to God the Father of our Lord Jesus Christ. AMEN"!* – Rhema Onuoha
DOWNLOAD MP3
Follow us on Twitter
LYRICS
Ihe nile 'm ji n'aka
Bu ekele
(All I have in my hands in praise)
Nara ekele'm jiri bia
(Receive my praise)
All I have to offer you is my praise
Nara ekele'm jiri bia
(Receive my praise)
Nara, Nara, Nara, Nara
(Receive)
Nara ekele'm jiri bia
(Receive my praise)
All that I am I give to you
Chi n'eme mma
Onwu ya ki bu
(You are the God that does good)
Nara, Nara, Nara, Nara
(Receive)
Nara ekele'm jiri bia
(Receive my praise)
All that I have I give to you
Chi n'eme mma
Onwu ya ki bu
(You are the God that does good)
Onye na gwo oria
Onwu ya ki bu
(You are the God that heals)
Chi nenye udo
Onwu ya ki bu
(You are the God that gives peace)