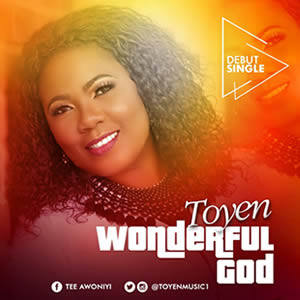 U.S. based Gospel Music Minister Toyen debuts her First Single "Wonderful God" a New single that professes the Power, Might and Glory of God.
Toyen begun her music ministry at a young age, ministering in Church and singing in choir with several lead roles.
She is Married to a lovely Pastor in the BLW nation, and blessed with two Sons.
She says this song was inspired by the Holy Spirit, at a time when it seemed she was at her lowest, and while praying and speaking to the situation, this words began flowing out of her innermost being.
Inspired by Isaiah 43:1-3, "Wonderful God" has its  arrangements by gospel sensation music minister John Godfrey, and produced by Da Genius.
Follow us on Twitter and Facebook